"I like a sense of humor, but . . . normally I'm more melancholy than playful . . . the playfulness you see is really a way of escaping my timidity."
WHO
Rivane Neuenschwander (born 1967, Brazil) creates art that relies on viewer participation and shared collective experience. Her practice includes performance, video, sculpture, painting and installation work. The artist's interest in play comes from a desire to push personal boundaries.
WHAT
In Watchword, Neuenschwander has embroidered labels with Internet images of words from protest signs. Participants are invited to choose a label, and pin it to the board or to their clothing. When we play with these labels, we connect to protests and we create poetry.
WHY
Neuenschwander's labels refer not only to current social resistance efforts, but also to how she learned to embroider from her mother. She uses a familiar personal craft as a means to explore the spaces between personal and political, artwork and spectator.
LISTEN
PlayTime curator Trevor Smith on Rivane Neuenschwander's invitation to play with protests. Read the transcript.
WORKS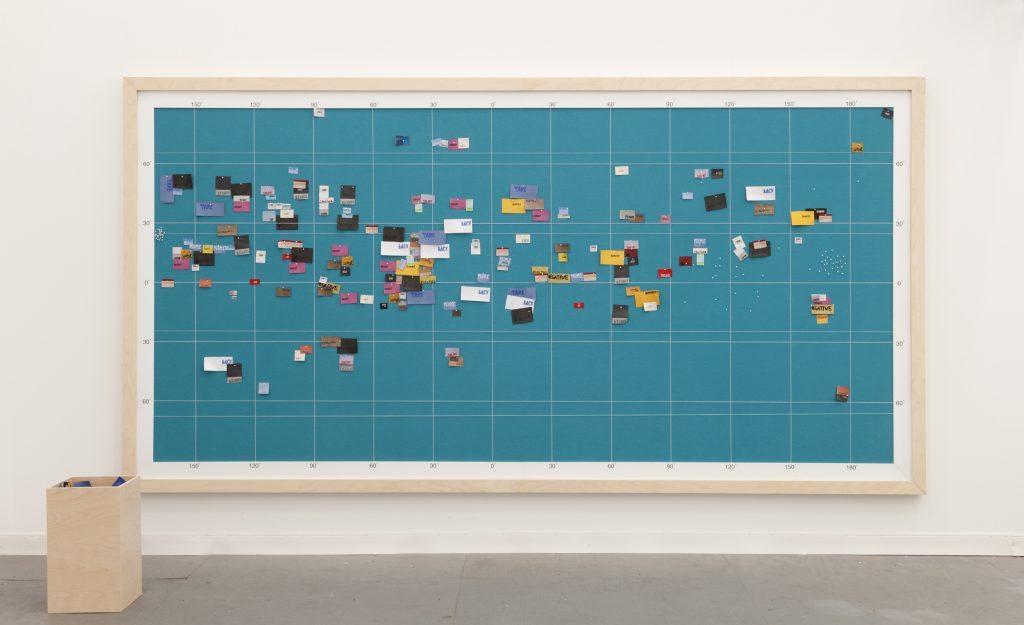 Watchword, 2013
Embroidered fabric labels, felt panel, wooden box, and pins
Courtesy of the artist and Tanya Bonakdar Gallery, Fortes D'Aloia & Gabriel, and Stephen Friedman Gallery
(Image credits: Courtesy of the artist and Tanya Bonakdar Gallery, Fortes D'Aloia & Gabriel, and Stephen Friedman Gallery.)